1 x Presto 21 litre Pressure Canner / Cooker Preserver Ball Weck Orchard Road
Presto 23qt - 21 litre Pressure Canner Without Jars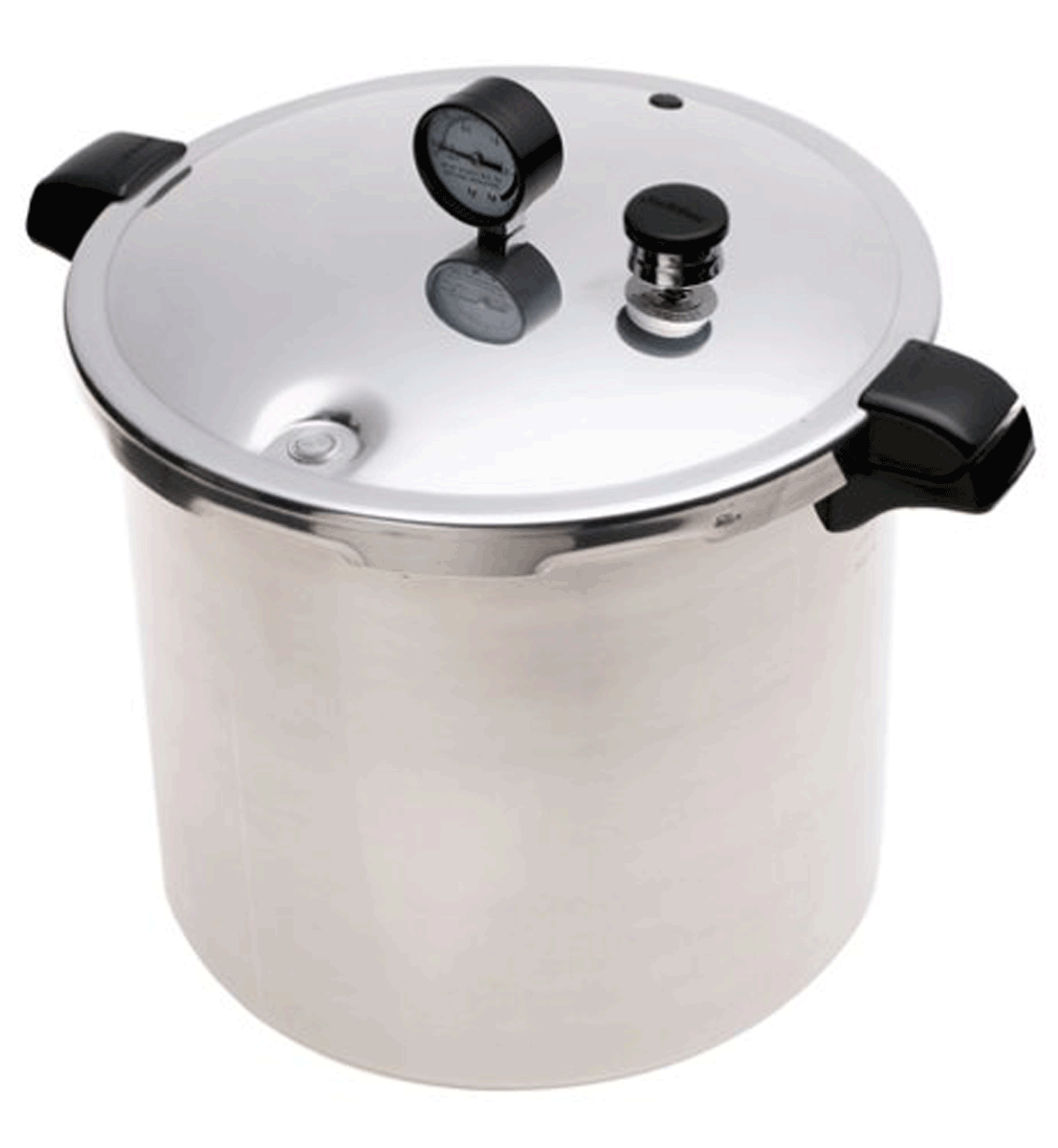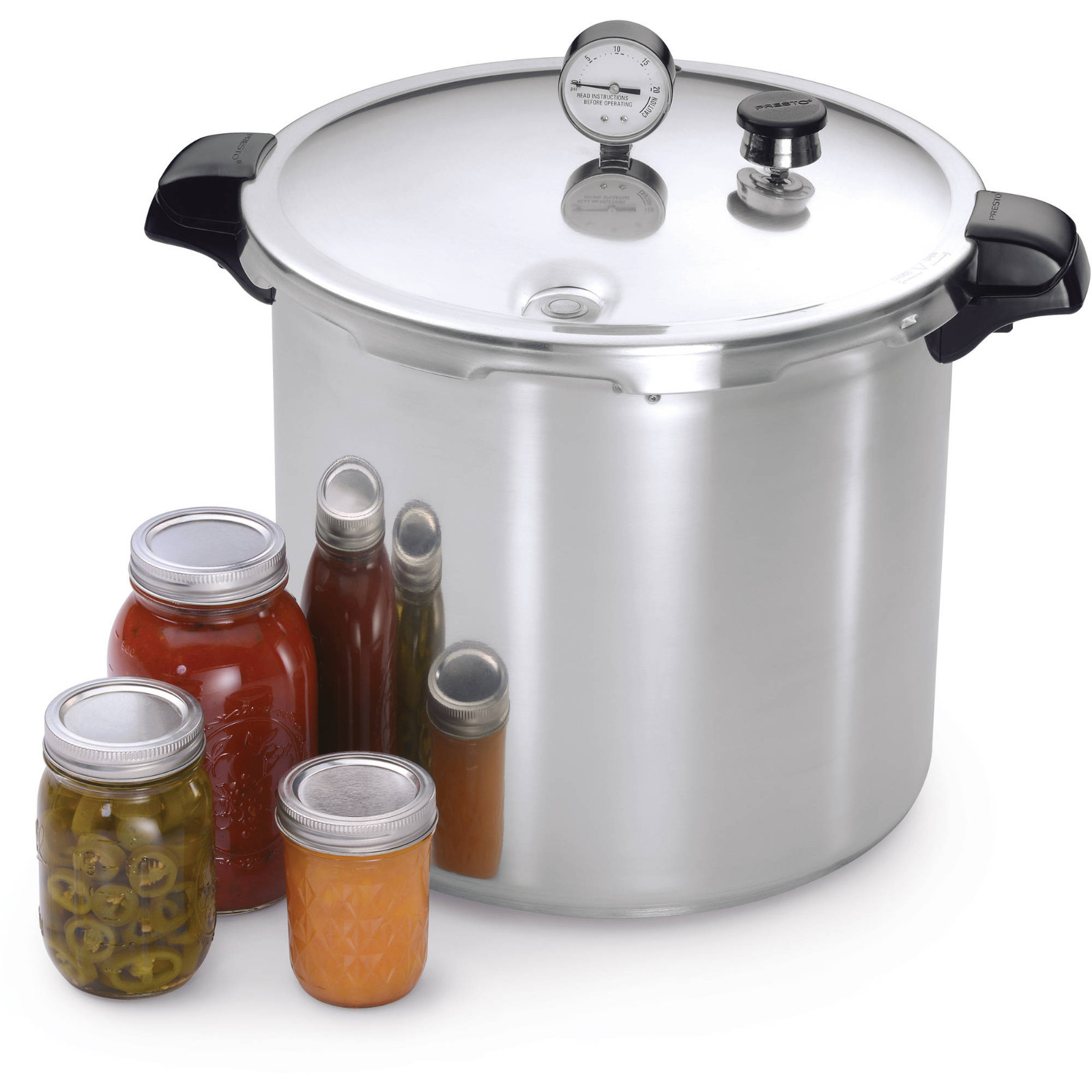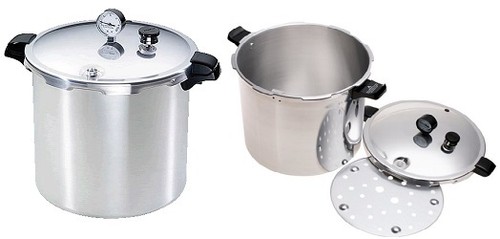 Presto® 23-Qt. Pressure Canner Note: picture shows the standard 15psi regulator but the our custom option replaces this regulator with the superior 3 piece regulator.
Imported directly from the Presto factory and custom made for our company we proudly present the Presto Pressure Canner & Cooker. In the USA bottling is called canning and this unit is a common household item there.
It can be used to bottle fruit on the stove top and is considered to be the only safe way to bottle non-acidic foods such as vegetables as well as meat fish soups and sauces.
A must-have for canning vegetables, meats, and fish. The easy-to-read gauge automatically registers a complete range of processing pressures.
Three piece regulator allows you to process at 5psi / 10psi and 15psi. Note that at sea level, normal pressure cooking is done at 15psi but canning/bottling is done at 10psi.
Without this regulator, you constantly need to monitor the dial gauge to ensure the pressure does not get too high so the regulator allows you to go away and do other things rather than having to constantly monitor the canner. (To use, 15psi = full regulator; 10 psi remove the top ring only; 5 psi remove both rings.)
Air vent/cover lock allows pressure to build up only when the cover is closed properly and prevents the cover from opening until pressure is safely reduced.
This Presto Pressure Canner also doubles as water bath canners for preserving fruits, jams, jellies, pickles and salsas. Constructed of extra-strong, warp-resistant aluminium and suitable for use on regular and smooth-top ranges. Includes cooking/canning rack and complete instruction and recipe book.
Mason Jar Capacity: 24 Half-Pints, 20 Pints, 7 Quarts. Can be used with other tempered preserving jars but we do not recommend recycled supermarket jars (refer our FAQs for more info) 12-year limited warranty.
These cannot be used on induction cooktops and are not recommended for flat/glass stovetops. In the case of the latter, the main reason for the restriction is that a full pressure canner with bottles and produce is very heavy and can cause the cooktop to crack.
You may check the weight rating of your cooktop with the manufacturer to satisfy yourself that it can withstand heavy weights.
Otherwise, it is recommended that you use a small single gas burner(see notes below regarding gas burners) Shipping is STANDARD shipping only. If you require fast, express/priority shipping please contact us for a freight quote.
The production of the first Ball® branded glass jar marks the beginning of a fascinating history. The Ball Brothers Glass Manufacturing Company began manufacturing fruit jars in 1884 in Buffalo, New York. After a destructive fire in the Buffalo plant, however, the five Ball brothers and their families relocated to Muncie, Indiana, where their business has become known worldwide.
As a leader in home food preservation, Jarden Home Brands is committed to continuing the tradition started by the Ball brothers and handed down through generations by providing quality products to help Americans preserve garden fresh produce. Join us in continuing our efforts to Preserve America for the next 125 years.
To ensure a smooth transaction, please follow the payment instructions laid out in the ebay system. If you there is any problem please send us a message Contact us and our Customer Service team will be happy to assist you. We accept payments through PayPal and bank deposit. Once your payment has cleared, we will ship your item within 1-3 business days. Ball Mason Australia is not liable for any unidentified payments or delays of delivery due to failure to follow instructions during checkout.
We will send all deliveries by Express Courier or by Australia Post. All items are guaranteed posted within 2 working days of us receiving payment, unless there is an item on backorder or in transit, if so we will contact you to advise an amended delivery time. 99.9% of our orders are despatched the next business day after receiving your order.
Some small items we can send to a PO Box. But for largest items it can be difficult because freight companies and Australia Post work in competition and Post Offices generally do not provide mail holding services of this sort. The exception to this is if you have a small independent postal agency that offers a range of other services.
If you live in a remote area and the post office also serves as a general store etc we are able to have the delivery sent to their physical address with courier, or to another local business address if they are prepared to sign for it.
At Ball Mason Australia, we want our customers to be completely satisfied with their purchase and aim to remedy any warranty faults as quickly as possible.
Please familiarise yourself with our policy on refunds, returns and repairs and your rights under the Australian Consumer Law.
We also recommend you immediately inspect any goods that we deliver to you to ensure you are completely satisfied with the goods, including that the goods are of acceptable quality, and match the description we have provided to you.
Change of Mind
Please choose carefully as refunds are not normally provided where you have simply changed your mind, made a wrong selection or found the goods cheaper elsewhere. Please preview any orders before adding them to your shopping cart and proceeding with your order. In some circumstances we will accept exchanges provided the goods are returned in pristine condition with their original packaging with freight paid by the purchaser. A 20% restocking fee will be applicable.
Goods Damaged in Transit
If any goods arrive damaged, please contact us as soon as possible. We may arrange to have the damaged goods returned to Ball Mason Australia and either arrange for a replacement of the goods or refund the price to you or grant a shop credit. In the case of broken bottles, we will not send individual replacements and will issue refunds or credits only.
Refunds
Refunds will be made via the method of payment you used to make your online purchase. Refunds will normally be processed within seven (7) days.
Delivery Charges
If goods must be returned to Ball Mason for assessment, you are responsible for the delivery charges to have the product returned to us. We recommend using a delivery method that allows tracking of your shipment to ensure that your product reaches us.
If we assess that the goods are covered by a manufacturer's warranty and are able to be repaired or replaced, Ball Mason Australia will meet the cost of returning the goods to you.
Returns and Repairs
Goods must be returned within a reasonable time. This timeframe may vary from product to product and may depend on the type of product you purchased and the price you paid.
Goods returned for repair will be assessed and/or repaired within a reasonable time. You may be provided with an indicative repair time, which time may vary due to reasons beyond ours or the repairer's reasonable control, such as part availability and incorrect fault description.
You may be required to pay labour, assessment and/or freight fees, such as where goods are assessed to have been damaged by misuse or accident, or where your rights under the Australian Consumer Law or any manufacturer's warranty do not apply. We may provide you with an indicative fee, which fee may vary due to reasons beyond our control.
In some circumstances, goods presented for repair may be replaced by refurbished goods of the same type rather than being repaired. Refurbished parts may be used to repair the goods.
Where goods are replaced under warranty, the warranty period is not renewed but is deemed to start from the original purchase date.
You can contact us on normal working hours. If you have any queries, please contact us via ebay.
Shop Categories
Helpful links
Views: 38536
Product Code: Presto 23qt Pressure Canner
Availability: In Stock